Event introduction:
To get you equipped for the knowledge and resources needed to succeed in the fast-paced world, at Digital Bootcamp Asia, we gather like-minded individuals to share valuable information and knowledge on various topics through workshops, networking events, panel discussions and etc. INSPIRED SERIES events are about travel, health, entrepreneurship, mental strength, and more!
Jon is a Forbes-featured entrepreneur, business owner, adjunct lecturer, and keynote speaker sharing experiences from his 20 years of business experience in China, and global perspectives from closing business deals across China, Europe, and Africa. This workshop brings together his experience in both business and academia and Jon will share how to approach negotiations from scratch and how to practice cultural reflexivity in international business engagements.
Workshop Takeaways:
Who should join us? (limited to 10 seats)
If you are interested in learning or expanding your knowledge about business and marketing in China.
About the speaker:
Founder, Chinapreneur Business Insights
With over 20 years of China experience, Jon is a fluent Mandarin speaker with a dynamic background which includes a Chinese MBA, a Chartered Management Accountant (UK), and a University of Cambridge Judge Business School Entrepreneurship alumni.
Jon is also an Adjunct lecturer at Fudan University and SKEMA Business School, lecturing Cross-Cultural Negotiations and Entrepreneurship in China, and regularly gives Chinapreneur talks to visiting business schools and keynote speeches on local business insights.
After spending 4 years in corporate retail sourcing, supplier relations, and quality management, Jon took the plunge into entrepreneurship in 2008. He has since then successfully built China-based companies in the sustainability services sector. He openly shares his successes and failures in his talks and lectures.
Agenda:
4:45-5:00pm - Registration
5:00-7:00pm - Workshop
*Other [INSPIRED SERIES] event x networking
Start getting inspired by 4 other entrepreneurs on Thursday:https://yoopay.cn/event/01334857
Previous events collaboration:
Event recap: https://mp.weixin.qq.com/s/Q7Ob4Hafsom-4T7fuLVIAA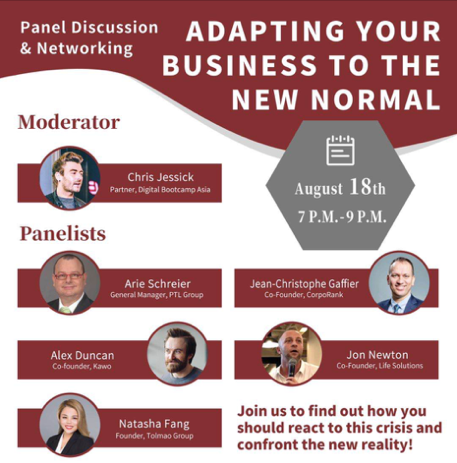 Event introduction:
The COVID-19 pandemic is disrupting our everyday lives and creating an unexpected level of uncertainty for entrepreneurs.
It's time to revisit your short term goal as well as planning the long-term business continuity plan. At Digital Bootcamp Asia, we aim to bring a group of entrepreneurs, business owners together to discover and brainstorm what lessons can be learned and therefore, to create contingency plans and equip your business with a strategic vision that takes into account the changing landscape. We've invited panelists from different industries to share their insights and points of view on how you shall adapt your business to the current business environment.
Event recap: https://mp.weixin.qq.com/s/G4n2IPPZchCFtSThrPDu-g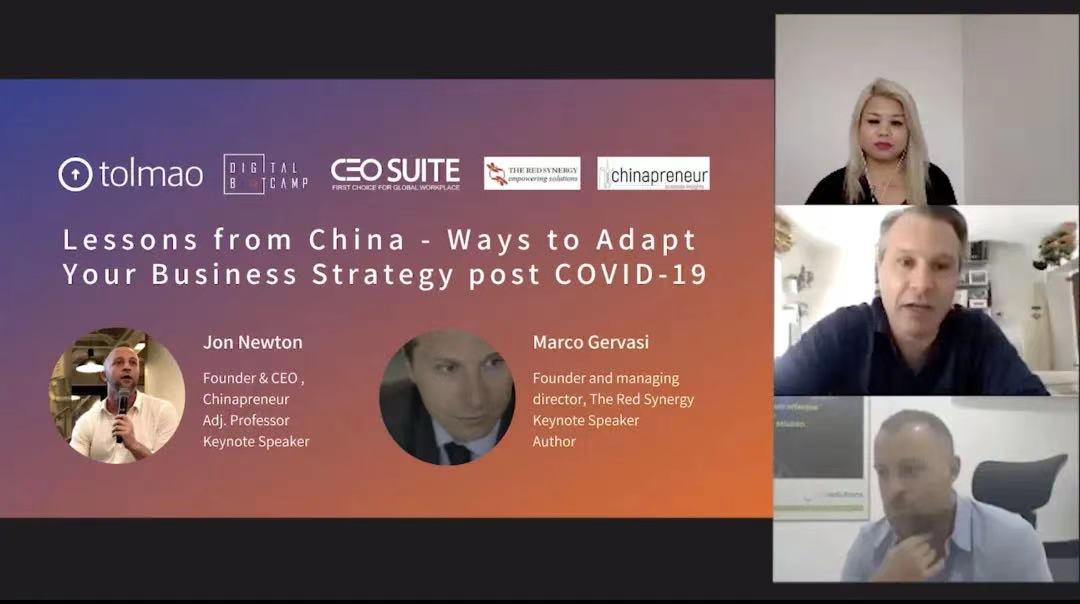 Event introduction:
Discover – Discover how to anticipate changed customers' behaviors.
Learn – Learn how to create storytelling content.
Explore – The 5 trends of China e-commerce during COVID-19. What lessons can we learn from how digital companies have adapted.
Case studies – How companies and brands are dealing with China during COVID-19, where no export managers can fly and fairs have been canceled.
Event recap: https://mp.weixin.qq.com/s/G4n2IPPZchCFtSThrPDu-g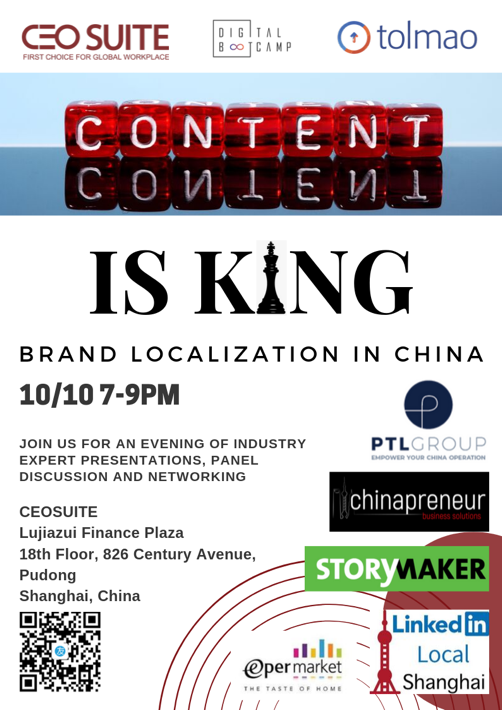 Event introduction:
Brands must "Differentiate or Die", and thereby be flexible and prepared for constant reinvention, reconsideration of processes and platforms and capability of quick repositioning based on marketplace demands.
This event brings together industry experts who each have unique insights into how they have accomplished this for their own brands, and also helped others to turn this challenge into success for their brands and businesses. Join us to find out how have your own success and become a Content King.
About the venue:
Art Deco Chic In The Heart of Shanghai.
Nestled In Puxi's trendy Jing'an district, Kempinski the One Suites Hotel Shanghai Downtown is perfectly situated for exploring the city's historic scenic and cultural heritage.