This map is printed on Epson Enhanced Matte Paper using archival quality ink, which guarantees a steady color and condition for 30 years or more.
The price for framed map includes a 100RMB fragile item delivery fee to Shanghai. If you come to pick up your order at our gallery in Beijing, the cost is reduced to 950RMB.
This Shanghai map from 1932 shows the city in its Republican heyday, only 5 years before Japanese occupation. The old Chinese city and foreign controlled concessions are all clearly marked, and in the middle of it all the "Publik Recreation Ground" is found. This place was predominantly known for being a racecourse. Twice a year in May and November horse races would be held here, and members of the city's foreign society would dress up for the occasion, with thousands of people crowding into the stands. The spelling mistake in "Publik Recreation Ground" reveals that this is not a map made by a native English speaker. It was in fact made by the Japanese, and similar small spelling mistakes can be found in many of the names featured on the map.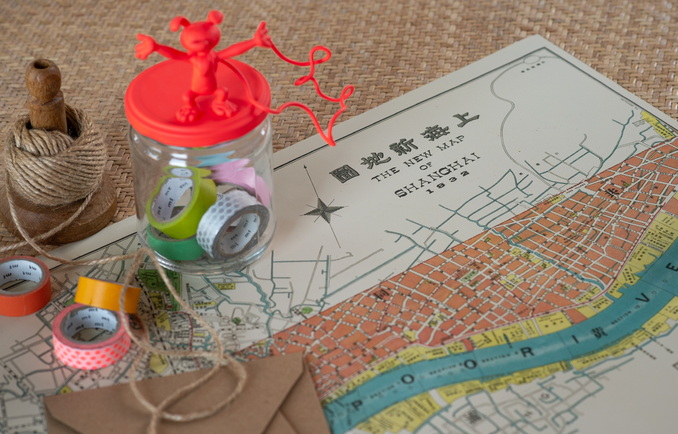 In the 1930s, Shanghai was a dynamic and happening place. The red lines on the map indicate the tram routes. The Shanghai tramway opened in 1908, 16 years before Beijing got a tram system.
Last but not least, the importance of the Huangpu river is very clear. At this point Shanghai's famous Bund was undisputedly the most important harbour in China. Major companies would have their own wharfs attached to storage houses. Shanghai's geographical location made it the obvious choice as a business centre, and it was the enormous volume of trade and production which took place there that resulted in the population of the city growing from a few hundred thousand people in the 1880s to around 3 million in 1932.