Support Green Initiatives in raising funds to create a platform which will engage you with Andy Couturier, the author of The Abundance of Less. Let's catalyze a critical understanding of today's increasing consumption patterns by which we use to compensate for our discontent with modern civilization and urban alienation.
支持绿色倡议和《少得多》一书作者Andy Couturier,这本作品用三周的时间观察了十个日本人的生活和教育,他们的生活方式将人性化指向一个更具可持续性和满意度的方向。作者向大家展示了尽管物质的富裕无处不在,但通过有限的选择,也能达到富足的幸福感和满足物欲。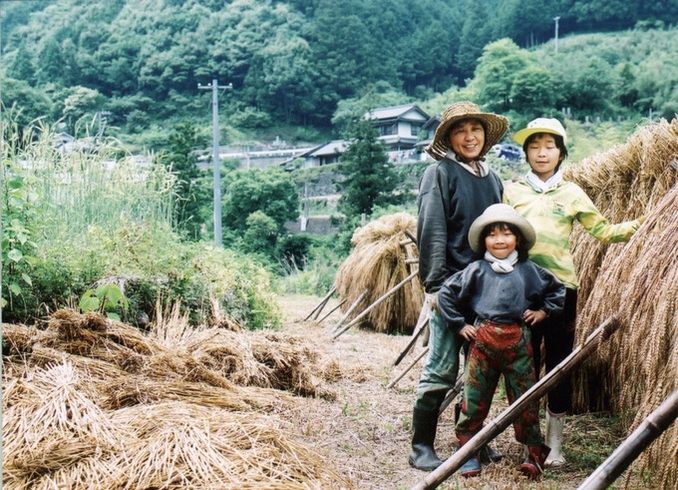 Will we continue to concentrate on consumption driven urban agglomerations or will rural and decentralized self-sufficiency turn out to be a genuine alternative?
我们会在农村自给自足还是城市疏离中继续发展?
This campaign will facilitate a three-week tour with Andy Couturtier in major Chinese cities including Shanghai, Hangzhou, and Beijing during the late Spring 2018. We will discuss the life and teachings of ten Japanese individuals, whose way of life points humanity in a direction of greater sustainability and satisfaction. Couturier inspires with the message to seek an abundance in well-being and self-sufficiency to grow out of the loop of materialism in our industrial economies.
Andy将于2018年春末在上海、杭州、北京和其他中国主要城市进行为期三周的访问,届时我们将与当地环保活动人士合作,组织作品有关的分享会和讨论会。我们希望能发起关于人类未来的探讨:我们是否会继续专注于消费驱动的城市集群,或者农村和去中心化、自给自足会成为真正的选择?
---
Together, let's contribute ¥88,000 CNY to the project to cover the cost of Andy's trip.
我们已经大致计算需要的花费,25天的差旅、住宿、翻译及活动费用约为88,00元。
Funds raised as of March 6th, 2018:
Yoopay: ¥ 2,250 CNY

Indiegogo: $453 USD

Corporate Sponsorship/Partnership: None
---
To give local contributors in China the opportunity to help grow this movement, Green Initiatives has opened Yoopay as an alternative way to contribute. This is not for the purchase of event tickets; funds received from Yoopay will be allocated to the following estimated budget.
Green Initiatives operates as nonprofit and we will provide complete transparency of all project income and expenses on our website.
Please contact info@greeninitiatives.cn for questions and inquiries.
这个项目是由上海非盈利组织"绿色倡议"组织。
更多详情请咨询info@greeninitiatives.cn。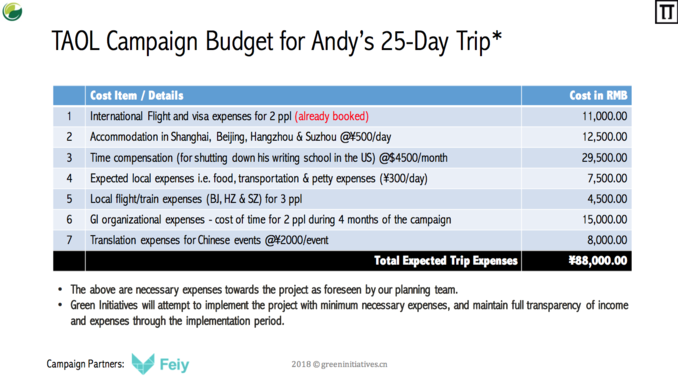 ---
Please Note:
- Names of all donors will be updated on http://greeninitiatives.cn/view-campaign/the-abundance-of-less at the end of each month.
- If you would like to donate a higher amount please select more 'quantity' for any of the 'contributions'
- For donations >200RMB we will award 1 free ticket to the opening event with Andy on 5th June 2018, World Environment Day.