Yale, Princeton, and Oxbridge Alumni Beijing Urban Waterway Hike
Join members of Yale, Princeton, and Oxbridge Clubs of Beijing in spending quality time together in the outdoors by the Miyun-Beijing Canal Nansha River Shangzhuang Reservoir. Learn about the water issues in Beijing and increase your awareness about the environmental challenges that the city is facing.
On the day, choose between a leisurely morning walk of 8 km or stick around for a full hike of 20 km.
The price of tickets includes guide services and a donation to the Nature University. Learn more about the Nature University education programming at http://www.nu.ngo.cn.
1. Guides and Club point persons: Zhang Xiang (Nature University) and Huang Hua (Nature University), and Bailey Carroll (Yale – 137 1894 9649), Lingzi Gui (Princeton – 136 1105 5130), Ajay Ahluwalia (Oxford – 138 1033 1649). Guiding will be provided in Chinese with translations by fellow participants when needed. Please indicate to the guides or the Club point persons that you require translation.

2. Route plan

Time: May 24th, 2014 (Saturday), 9:00 am to 4:30 pm
a. Meeting point: Metro Line 4 Beigongmen Station D Exit
b. Detailed itinerary: Metro Line 4 Beigongmen Station D Exit, Qinglong Bridge, Malianwa West Road, Taizhouwu Road, Lengquan Qiao, picnic lunch outside of Taizhouwu Village, Beiqing Road, Nansha River Tributary, Nansha River (Changle Village segment), Shangzhuang Reservoir, return to Beigongmen Train Station.
3. Food: Lunch will be a picnic at a riverside. Please bring along food for yourself and a bit to share with others. Water can be purchased at vendors along the route.

4. Price: RMB 50 to for dues-paying members of the Princeton & Yale clubs and members of Oxbridge; RMB 60 to non dues-paying members of Princeton & Yale as well as guests of Oxbridge.

5. Major points of environmental interest: Miyun-Beijing Canal, Liulituan Landfill, Shanzhuang Reservoir, Nansha River and its tributary.

6. Total distance: Shorter route – 8 km, longer route – 20 km.

7. Terminal points and transportation:
a. Longer route (circa 20 km): Terminal point at Shangzhuang Reservoir, take bus 303 to the terminal station of Subway Line 4, Beigongmen and take subway from there.
b. Shorter route (circa 8 km): Terminal point at Tundian Bridge Stop, from where bus 330 goes to Metro Line 4 Beigongmen Station, or bus 633 to Shangdi, bus 651 to Zhongguancun and Xizhimen, bus 952 to West Fourth Ring Road and Fengtai, bus 968 to Zhongguancun, West Third Ringroad, and Daxing. The route is flat and suitable to very young and also older participants. A stroller with sturdy wheels could easily be used along the route, although note that busses tend to have limited space for strollers so you might require a taxi to return back to the metro.
8. Time:
a. 8:45 am Meet-up at Metro Line 4 Beigongmen Station D Exit
b. 9:00 am Prompt departure; Walk along the Miyun-Beijing Canal
c. 12: 00 noon Picnic Lunch nearby Taizhouwu Village
d. 1:00 pm After lunch those taking the shorter route take public transit back; the rest head out for the reminder of the hike
e. 4:30 pm Those taking the longer route arrive at Shangzhuang Reservoir, take public transit back to the city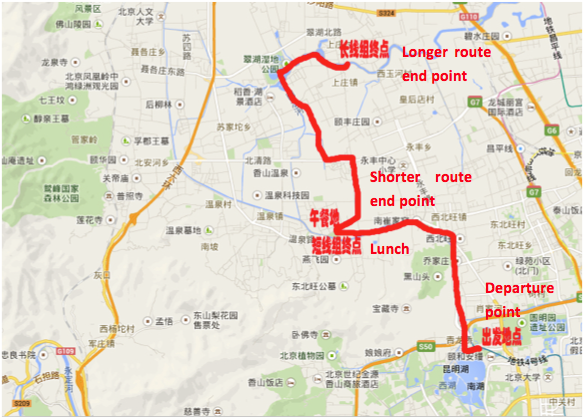 10. Please note:
a. Most of the time we will be nearby water, adults are responsible for taking care of their children or any other minors that accompany them. Please do not allow children enter water.
b. Liulitun Landfill is an environmental protection sensitive site with frequent waste disposal truck traffic. Please do not approach any of the staff at the site in large groups as this could attract attention from other staff and supervisors and lead to unwanted consequences.
c. Most sections of the walk are open for various levels of traffic. Please be careful!
d. Neither the Clubs nor Nature University can be held liable for any injury or loss incurred during the hike. Participants are advised to carry their own health and accident insurance.
e. The hike might be called off in case of extreme weather forecast, in which case notice will be sent out no later than two days in advance. The event will not be cancelled due to light rain or poor air quality on the day.
f. Bar for cancellation due to extreme weather, refunds cannot be provided for purchased tickets.