Join our

PASSPORT TO HOLLYWOOD Summer Camp!
Camp includes | 夏令营内容特色
Creative, hands-on activities with music, performances, arts

and

crafts, sports, and games, cultural exploration, teamwork and more.

All sessions are in English, there is a trainer assistant who will bridge communication (Mandarin - English/ English - Mandarin) upon request.

All sessions are guided by international experienced trainers, who completed Life Skills Training seminars.

Camp hours: 9:00 a.m. to 3:00 p.m.

Lunch time

: 12.00-12.30

A grand final performance and exhibition of students` projects for parents

Receive Life Skills Certificates (for kids, who attend 5+ weeks)

Daily feedbacks & photos
创造力、音乐实践活动、表演、艺术手工、运动、游戏、文化体验、团队协作等等;
体验浸润式全英文教学,但也有根据需要配备的中文翻译助教帮助沟通;
不一样的高水准师资:研修过生活技能指导课程、教学经验丰富的国际指导师
营内作息:9:00-15:00, 午饭时间:12:00-12:30
最终将呈现给家长们一场大型学员节目表演和展览
参与5周以上活动的小学员将获得生活技能证书
每日都会有照片记录和小学员情况反馈
WHO CAN JOIN? | 谁能参加?
4-7 years old 岁
8-14 years old 岁
WHEN? | 参加时间是?
JUNE: 18-22, 25-29
JULY: 2-6, 9-13, 16-20, 23-27, 30-3
AUGUST 6-10, 13-16
06月: 18-22, 25-29 日
07月: 2-6, 9-13, 16-20, 23-27, 30-3 日
08月 6-10, 13-17 日
Time 全天 09:00-15.00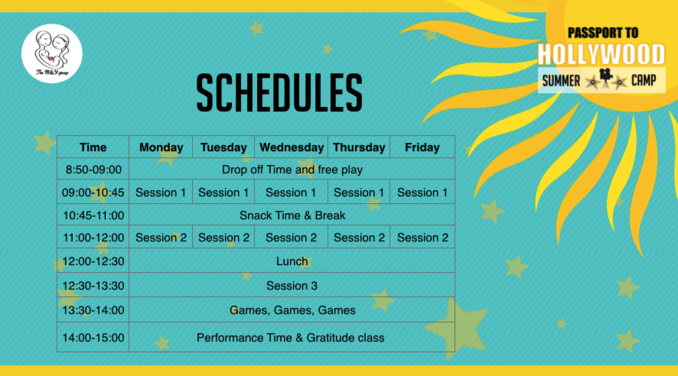 WHERE? | 在哪儿参加?
MEWlink
中国·上海市静安区胶州路709号B1楼
709 Jiaozhou Road, B1 Floor, Jing'an District, Shanghai, China-200040 (subway: Changping Road, Line 7)



HOW MUCH? | 花多少钱?
Before APRIL 30th: 1950 RMB/week 週
Before MAY 31st: 2100 RMB/week 週
After JUNE 8th: 2300 RMB/week 週
TRAINERS! 培训师
A team of Life Skills Trainers will be leading the camp!