Join our

PASSPORT TO HOLLYWOOD Summer Camp!
Camp includes | 夏令营内容特色
Creative, hands-on activities with music, performances, arts

and

crafts, sports, and games, cultural exploration, teamwork and more.

All sessions are in English, there is a trainer assistant who will bridge communication (Mandarin - English/ English - Mandarin) upon request.

All sessions are guided by international experienced trainers, who completed Life Skills Training seminars.

Camp hours: 9:00 a.m. to 3:00 p.m.

A grand final performance and exhibition of students` projects for parents

Daily feedbacks & photos
创造力、音乐实践活动、表演、艺术手工、运动、游戏、文化体验、团队协作等等;
体验浸润式全英文教学,但也有根据需要配备的中文翻译助教帮助沟通;
不一样的高水准师资:研修过生活技能指导课程、教学经验丰富的国际指导师
营内作息:9:00-15:00
最终将呈现给家长们一场大型学员节目表演和展览
每日都会有照片记录和小学员情况反馈
WHO CAN JOIN? | 谁能参加?
4-7 years old 岁
WHEN? | 参加时间是?
JULY: 2-6, 9-13, 16-20, 23-27, 30-3
AUGUST 6-10, 13-16
07月: 2-6, 9-13, 16-20, 23-27, 30-3 日
08月 6-10, 13-17 日
Time 全天 09:00-15.00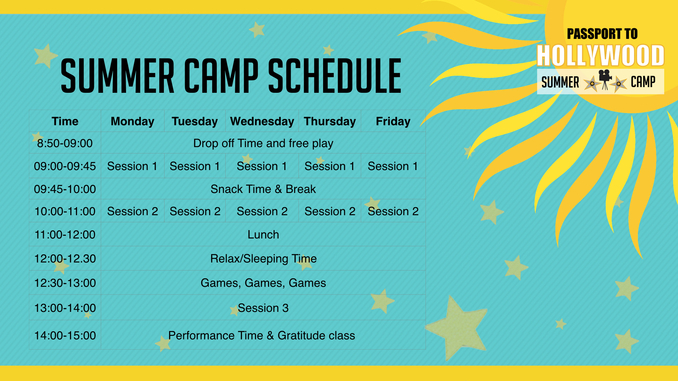 WHERE? | 在哪儿参加?
Little Bugz, 2/F, 285 Jiangguo Xi Lu, 建国西路路285号2楼 .


HOW MUCH? | 花多少钱?
2300 RMB/week 週
TRAINER! 培训师

Anastasiia 项目经理兼首席教练
For the part 5 years Anastasiia has organized projects and facilitated in international conferences on leadership development for global audiences, aimed to transform thinking, find out solutions, and inspire action. She has trained students from young age on personal development on the local and regional levels in Ukraine, Turkey, Indonesia, China, USA. Having explored over thirty countries, while working in 6 of them, she became a citizen of the world and since then she is driven to contribute to education development and cultural understanding.
Certified Life Skills Trainer

Trained leadership teams on the world`s largest youth organization in China, USA, Indonesia, Ukraine, Turkey.

Trained students at Britannica International School, Shanghai Community International School, Anshan school, Naked Discovery etc

Judge

at

EdTA

National Young Thespian Drama Festival, Education Bureau of Yangpu District Oratory

Competition ,

ASDAN Business Simulation, Anshan High School Public Speaking Competition etc
Anastasiia在过去的5年中组织了大量的全球性的有关领导能力发展的项目以及国际会议,旨在让人们转变思维、寻找问题解决方案,并激励人们积极采取行动。在乌克兰、土耳其、印度尼西亚、中国、美国等国家,Anastasiia指导年轻人从小重视自己的个人发展,并在探索了30多个国家之后,选择其中6个作为工作地,成为一名真正的世界公民,从此一直致力于全球教育发展与文化解读。