POETS AND POETRY IN EDUCATION
Marcel Gauthier, Scot Slaby, Chen Bo, Ronna Bloom, moderated by Simon Shieh
Sunday, March 18, 12 Noon | 60 RMB
How can we infuse more poetry education into our schools? How can we nurture more poetry readers and writers? Join Shanghai American School's Head of School and poet Marcel Gauthier; Shanghai American School English teacher and poet Scot Slaby; Chen Bo, Co-Director of InkBeat Arts and the Managing Editor of Spittoon Literary Magazine; Ronna Bloom, a Canadian writer, psychotherapist, teacher, and author of six books of poetry; and International School of Beijing Writer-in-Residence and Spittoon Literary Magazine, Beijing Youth Literary Review Editor-in-Chief Simon Shieh for a panel discussion about the ways in which writers and educators can nurture the creative and the academic simultaneously.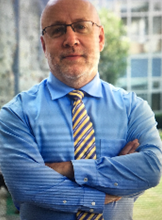 Marcel Gauthier completed his MFA at the University of North Carolina @ Greensboro, where he was a Randall Jarrell Fellow. The recipient of a grant from the National Endowment for the Humanities, he has published poetry in a variety of journals, most recently the Spoon River Review, the Louisville Review, and The Southeast Review. Marcel began his teaching career in Los Angeles right out of college and has been a lifelong educator of literature and writing in American independent schools. In the second half of his career, Marcel moved into leadership and now serves as the Head of School at Shanghai American School, his first international posting. His passion is connecting the creative process in poetry and art to broader areas of education and leadership.
Scot Slaby, a poet and educator, earned his M.A. in Writing from The Johns Hopkins University. His chapbook, The Cards We've Drawn, co-won the 2013 Bright Hill Press National At Hand Chapbook Award, and his most recent work, Bugs Us All was published by Entasis Press in 2016. Slaby's poems have also appeared in The Book of Forms: A Handbook of Poetics Including Odd and Invented Forms, Like Light, Arcana: The Tarot Poetry Anthology, unsplendid, and elsewhere. His "I Notice" method for reading poems was published in 2017 by The Academy of American Poets. In his teaching, Slaby is passionate about helping students engage with complex texts, nurturing both their academic success and their love of language itself. He currently teaches at Shanghai American School.
Chen Bo studied literature and human rights law in Peking University. He is the Managing Editor of Spittoon Literary Magazine. A writer of both poetry and fiction, his work has been published in Chinese and English.
Ronna Bloom is a writer, psychotherapist, teacher, and author of six books of poetry, most recently The More (Pedlar Press, 2017). Her poems have been recorded for the Canadian National Institute for the Blind, translated into Spanish and Bengali, and can be found on the Toronto Public Library Poetry map, an online map that lets you explore the city through poetry. She has collaborated with musicians, filmmakers, doctors, students, academics, spiritual leaders, and architects. Ronna is currently the Poet in Community at the University of Toronto and Poet in Residence at Mount Sinai Hospital and in the Sinai Health System. In these roles she offers students, health care professionals, patients, and visitors opportunities to articulate their experiences through reflective writing and poetry.
Simon Shieh is a poet and the Director of InkBeat Arts, a social enterprise dedicated to improving creative arts education in China. He is also the Editor-in-Chief of the Spittoon Literary Magazine and serves as the Writer in Residence at the International School of Beijing. Simon's poetry appears or is forthcoming in Grist, Kartika Review, CALAMITY, and the Aztec Literary Review, among others.