IEEBC: The Investment & Economic Enterprises Business Community is a platform focused on opportunities in investment, trade, tourism, education, sports, and technology. The organization hosts a series of business events, provides guidance and support, and acts as a liaison between businesses, organizations, and governments, to facilitate the success of our members.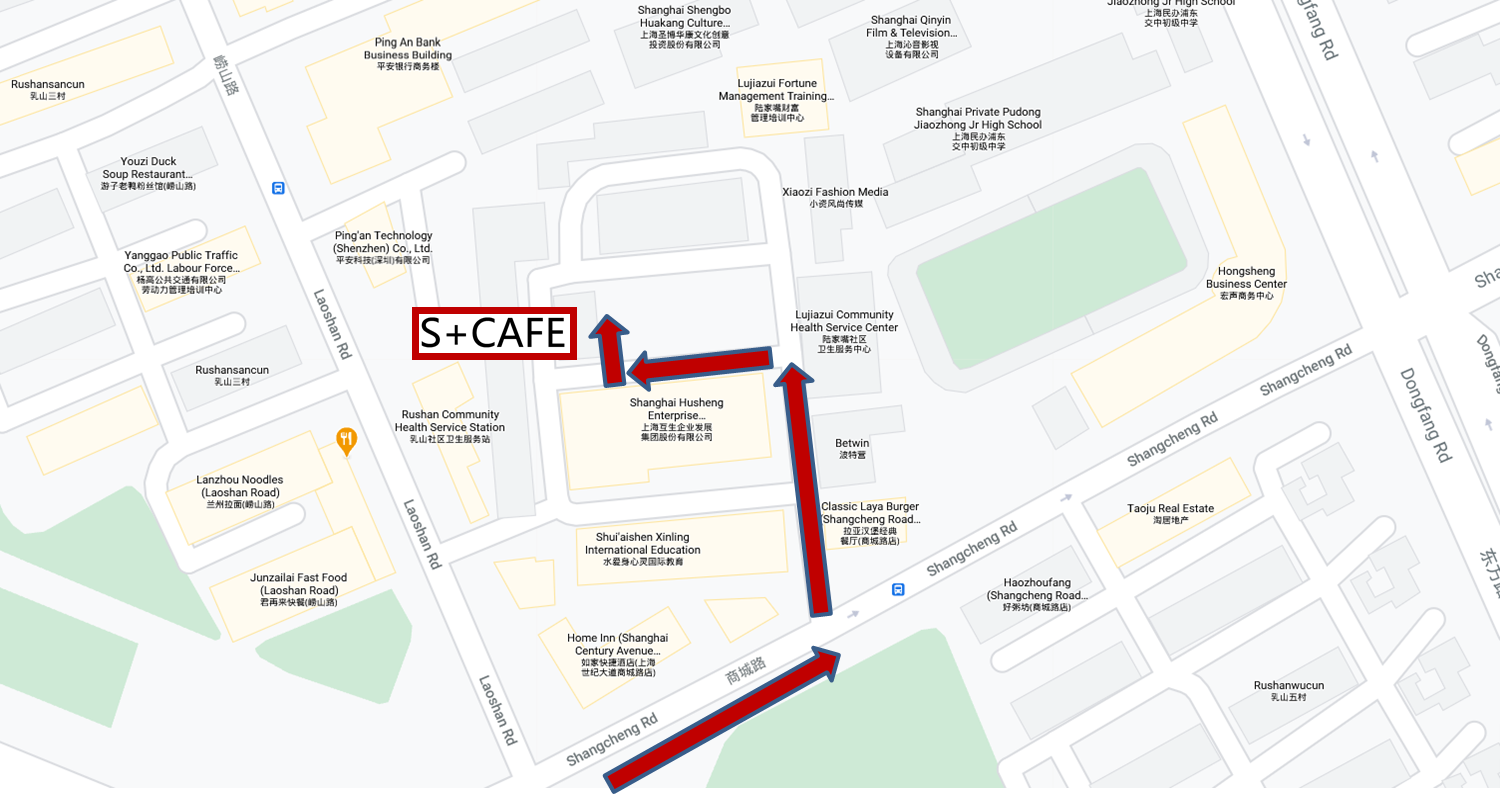 DIRECTIONS: Subway Lines 2, 4, 6 or 9 to Century Avenue. Take Exit 1 and walk in the same direction as the exit along Century Avenue toward the Shanghai Financial Tower. Cross over Zhangyang Road to the next traffic light and go right on Shangcheng Road. At the first crosswalk cross to the other side of the street, which is the entrance to 889 Shangcheng Road, the Porter Creative Park. Walk past two buildings and make a left into the small park which leads to S+Cafe.
Shanghai Viking Gold Ltd is a Chinese company registered in Shanghai, China, founded by Norwegian entrepreneurs. The daily operations are done from the company's office in Shanghai, as the company's operations largely revolve around the import of healthy and safe Scandinavian Food and beverages to the Chinese market. In addition to imported products from Scandinavia to China, the company is also engaged in export of electronics, lighting, safety products, automotive and maritime accessories, etc, from China to Scandinavia, EU and USA Caviar is an absolutely balanced product, which along with remarkable quality has also plenty of nutrients useful for your body. It includes minerals such as phosphorus, iodine, and calcium to help normalize the joint conditions. For hundreds of years, people from Sweden, Norway, and Finland have made Kaviar from cod eggs. A product now often called in Sweden "Smørgåskaviar".
Fei Qin Studio is an international social contact broker and promoter platform of multiculturalism based on Fei Qin-Writer, critic, broker, curator, founder's multimedia. Successful projects as Fei Qin the planner, partner, or promoter: Opening ceremony of China Canada Tourism year. photo exhibition ( Guizhou- What Canadian people see) ( 2018); Xingguo Hotel Li yiyin painting auction( 2019); Annual poetry concert Swedish Consulate General in Shanghai (2016); Red Fei Lotus blossom cross-arts international forum (2018); Fei Qin Studio Taipei trip ( conference with Jay Chou music, Playboy magazine, and more)( 2019); Saloons to welcome Vancouver Chinese Film Festival Committee ( 2019). Fei Qin Studio, s overseas partner; Latin America Center of Confucius Institute. Also has worked as a promoter to as Yanli, Shen haoBo, Zhou see, Li chen gen, Ruogan Ai, etc over 10 famous Chinese publishers, writers Vip guests to achieved great culture exchange in Latin America) , has helped Fashion business Chantel Gong to get more market opportunities in Latin America, Beijing, and Shanghai. Vancouver Chinese Film Festival ( Fei Qin Studio gets the authority to work on behalf of manners related for Vancouver Chinese film festival . Canadian fellow countrymen Association: Fei Qin Studio for years has cooperated her , will do more . Fei Qin as a poet has been translated into English, Japanese, Spanish, German including ( Sunshine weighs a thousand pounds in Madrid) ( Sex 13 ), s author also has several books involved other poets, she has acted a part in award film Maker Ruotao Xu film.In a word, Fei Qin Studio is a vivid and unique international multimedia platform, is attributing her passion and impressive talent to help all kinds of professionals to get promoted or offers opportunities on filming, art auction, press, fashion week, tourism, event planning and more. Fei Qin was special writers guest to have been invited to International poetry Festival of Mexico, Ecuador international literature festival Canada international film Tv forum, Vancouver Chinese film festival (overseas or China news).

WannaTravel is an international travel community for people who live in the big city. In our trips, you will have opportunities to escape from the city, reconnect with nature, workout with style, and socializing! WT是一家为都市人提供减压旅行服务的社群,通过加入我们的行程,达到逃离城市,回归自然,时尚健身,移动交友的目的。
Languages Beyond the World | The last art event of the year. In the blink of an eye, 2020 is the end of the year. At this time in previous years, art audiences from all over the world have flocked to Miami Beach, South Florida, to celebrate the last major festival of the art world with art institutions and temporary exhibition spaces in the city. Although you cannot go abroad this year to exchange and learn in foreign exhibitions, this year's Shanghai Art Expo will not let you miss the opportunity to discover artists and their works. From individual booths to well-planned presentations, let us appreciate the "gluttonous feast" approaching the end of 2020. Catch up with the last art event of the year 2020 (24th) Shanghai Art Fair is underway... Sponsored by Shanghai Cultural Development Foundation and undertaken by Shanghai Art Fair International Exhibition Co., Ltd. 2020 (24th) The Shanghai Art Fair collectors have kicked off, and the exhibition will last until December 6. 2020 (24th) Shanghai Art Fair•World Trade Exhibition Hall 9.18-9.20 Retrospective Video Shanghai Art Fair, as the most senior art fair in Shanghai and even the country, presents the audience comprehensively including modern and contemporary art, classic eternity, traditional ink and purple sand Artistic masterpieces in six major sectors including ceramics, artistic life aesthetics, and trend art. The works of Eastern and Western art masters can be seen everywhere in the exhibition, such as Dali, Miró, Kollwitz, Zao Wou-ki, Wu Guanzhong, Andy Warhol, Tsuguharu Fujita, Yayoi Kusama, Basquiat, Nara Michi, Kora Sanji, etc. Introduction to the participating art spaces of the 2020 Shanghai Art Fair-Momo Art. Shanghai Ziyi Momo Culture Introduction (hereinafter referred to as momo art): Momo art has art galleries and cultural spaces under its jurisdiction, and is committed to creating an integrated operation platform for art IP artists and sticky art traffic. Focus on art display exchange, education promotion, sales operation, operation planning, capital operation. Closely integrate with art021, West Bund Art Fair, photo fairs, Basel and other traffic platforms, with the help of Long Museum, Yuz Museum, Powerlong Museum, Fosun Art Center, k11 Art Museum and other resources, combined with Shanghai Center, Joy City, The flow of commercial malls such as IAPM, China Resources, and Greenland aims to establish itself as an art IP ecological platform based in Shanghai, radiating Asia-Pacific and looking to the world, emphasizing the perfect combination of art and commerce, and allowing art to enter thousands of households through the extension of art copyright. Dürer's works include woodcut prints and other prints, oil paintings, sketches, and sketches. Among his works, prints are the most influential. He is one of the best woodcut and copper engravers.Many people's first reaction to Yayoi Kusama is still on "intensive fear" and "weird old woman". She is an avant-garde artist and a mentally ill person; she is a painter obsessed with dots, and a patient with neurological visual and hearing impairment; she is a "weird mother-in-law" in the eyes of everyone, and a "genius" that is difficult to simply define... and she is the most attractive The point is that she never seemed to think about adapting to this world. I have always agreed that a person's life is inseparable from his childhood. This is especially true for artists, always learning to be a company with loneliness and keeping a distance from life. Yayoi Kusama's connection with art was a childhood neurological audiovisual disorder. Others could not imagine her auditory and visual hallucinations, and the world she saw with a dotted net, and her unfortunate childhood. It is said that when God closes a door, he will certainly open a window. "The earth is just one of a million dots," she said. Yayoi Kusama • Selected Works. Another contemporary art market darling Takashi Murakami is one of the most popular and controversial artists in the world. He is also known as the three major contemporary Japanese artists along with Yoshitomo Nara and Yayoi Kusama. The simple and straightforward "Superflat" style has been enthusiastically sought after by the international auction market and fashion circles. The auction prices of works continue to break new highs. The 13-year cooperation with Louis Vuitton has become a model of art and fashion cooperation in the early 21st century. , A wealth of art surroundings and co-branded trendy products were sold out as soon as they were launched. Takashi Murakami • Selection of works Andy Warhol In the pop world, life is art, and art is life. Andy Warhol's works site map. Dali is as famous as Picasso and is recognized as the most representative artist of the 20th century. If you only knew his paintings, it would be a pity. As one of the iconic symbols of the times, Dali's unprecedented crossover, avant-garde design and fashion sense, and even his absurd behaviors and concepts are far more eye-catching than painting. If it is said that "geniuses and lunatics are only one step away" Dali may be the perfect expression of this.
世界之外的语言| 本年度最后一场艺术盛会. 2020年转眼已经年尾,往年的这个时候全球的艺术观众都已经纷纷涌向南佛罗里达州的迈阿密海滩,与全城的艺术机构和艺廊临时展览空间共同庆祝艺术世界每年的最后一大节日。今年虽无法走出国门,在国外的展会中进行交流与学习,但今年的上海艺术博览不会让你错过发掘艺术家及其作品的机会。从个人展位到精心策划的呈现,让我们一起领略2020年接近尾声的"饕餮盛宴"。赶本年度最后一场艺术盛会,2020(第24届)上海艺博会正在进行ing... 由上海文化发展基金会主办、上海艺博会国际展览有限公司承办的2020(第二十四届)上海艺术博览会藏家已拉开序幕,展览将持续至12月6日。2020(第24届)上海艺博会•世贸展馆 9.18-9.20回顾视频 上海艺博会作为上海乃至全国最资深的艺术博览会,为观众全面呈现了包括现当代艺术、经典永恒、传统水墨、紫砂陶瓷、艺术生活美学、潮流艺术等六大板块的艺术佳作。东西方艺术大师的作品在展场中随处可见,比如达利、米罗、珂勒惠支、赵无极、吴冠中、安迪·沃霍尔、藤田嗣治、草间弥生、巴斯奎亚、奈良美智、空山基等等。2020上海艺博会参展艺术空间介绍——Momo Art. 上海子亦墨墨文化简介(以下简称momo art): momo art下辖有艺廊,文化空间,致力于打造集艺术IP艺术家,粘性艺术流量一体化运 营平台。专注于艺术的显示交流,教育推广,销售经营,运营策划,资本运作。紧密结合art021,西岸艺博会 ,photofairs,巴塞尔等流量平台,借助龙美术馆,余德耀美术馆,宝龙美术馆,复星艺术中心,k11美术馆等 资源,结合上海中心,大悦城,iamp,华润,绿地等商业mall流量,旨在立足上海,辐射亚太,放眼国际的艺术IP生态平台,强调艺术与商业的完美结合,并通过艺术的版权延伸,让艺术走进千家万户。丢勒的作品包括木刻版画及其他版画、油画、素描草图以及素描作品。他的作品中,以版画最具影响力。他是最出色的木刻版画和铜版画家之一。很多人对草间弥生的第一反应,仍然停留在"密集恐惧"和"怪异老太婆"上。她是前卫艺术家,也是精神疾病症患;她是痴迷圆点的画家,也是神经性视听障碍患者;她是众人眼中的"怪婆婆",也是难以简单定义的"天才"… 而她最吸引人的一点,是她好像从来没想过,要适应这个世界。 我一直认同一个人的一生同他的童年有密不可分的联系。艺术家更是如此,总要学会与孤独为伴,与生活保持着距离。草间弥生,与艺术的结缘,是幼年的神经性视听障碍,旁人无法想象她的幻听、幻视,以及她所看到的蒙着一层圆点网的世界,也有她不幸的童年。都说上帝关上了一扇门,也必定会打开一扇窗。"地球也不过是百万个圆点中的一个。"她说。 草间弥生 · 作品选. 另一位同时代的艺术市场的宠儿村上隆国际上最热门、也最具争议的艺术家之一,与奈良美智、草间弥生并称日本当代三大艺术家。简单直接的"超扁平"(Superflat)风格受到国际拍卖市场和时尚潮流圈的热烈追捧,作品拍卖价格不断突破新高,和路易威登长达13年的合作成为21世纪初艺术和时尚合作的典范,丰富的艺术品周边和联名潮品一经推出便销售一空。村上隆 · 作品选安迪·沃霍尔在波普的世界里,生活就是艺术,艺术就是生活。安迪·沃霍尔 作品 现场图. 达利与毕加索齐名,被公认为20世纪最具代表性的艺术家。要是你只知道他的绘画,实在太可惜了。达利作为一个时代性的标志符号之一,他前所未有的跨界,先锋设计和时尚感,甚至他荒诞不经的行为和理念,都远比绘画更引人注目。如果说「天才和疯子,只有一步之遥」达利可能是此话最完美的体现。
WannaTravel is an international travel community for people who live in the big city. In our trips, you will have opportunities to escape from the city, reconnect with nature, workout with style, and socializing! WT是一家为都市人提供减压旅行服务的社群,通过加入我们的行程,达到逃离城市,回归自然,时尚健身,移动交友的目的。
Expat-Services.cn (ExS), your local information about networking, associations, professional clubs, events, tips and promotions in Shanghai. Our network is Your network, Join Us!
13816730566

michaeljosephrosenthal@gmail.com