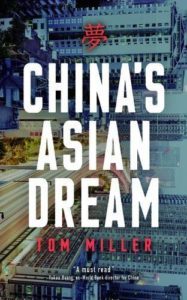 From the Mekong River Basin to the Central Asian steppe, China is flexing its economic muscles for strategic ends with its "One Belt, One Road" initiative. By setting up new regional financial institutions, Beijing is challenging the post-World War II order established under the watchful eye of Washington. And by funding and building roads, railways, ports and power lines—a New Silk Road across Eurasia and through the South China Sea and Indian Ocean—China aims to draw its neighbours ever tighter into its embrace.
Combining a geopolitical overview with on-the-ground reportage from a dozen countries, China's Asian Dream offers a fresh perspective on the rise of China and what it means for the future of Asia.
Tom Miller is a senior analyst at Gavekal Research, a global economic research service, and editor-at-large of China Economic Quarterly, published by its sister service Gavekal Dragonomics. His first book, China's Urban Billion: The Story Behind the Biggest Migration in Human History (Zed, 2012), was translated into Chinese.
Tom will in conversation with Calum MacLeod, Beijing Correspondent for
The Times of London.
The Bookworm | Thursday April 27 | 7.30 pm | 50 rmb (includes a drink)
50 rmb (includes a drink)