Now 3 years going, the twice-annual Shenzhen Health and Wellness Fair is Shenzhen's largest exhibition of nutrition, fitness, and wellness-related offerings. Oriented towards busy-yet-health-conscious urbanites, the Fair has helped connect hundreds of city-dwellers with wellness support and bring balance to their lives.
In addition to meeting new customers face-to-face by reserving a vendor booth, the Fair also serves as a platform in other ways. As a vendor, you have the chance to:
✓ Your logo on 6th SZHWF promo posters
✓ Adspace in our coupon books (given for free to all guests)
✓ Access to our goody bags (given for free to all guests)
✓ Chance to give a live demo
✓ Participate in a tasting panel and get reviewed by ShenzhenEat.com (food vendors)
✓ And more! As us about additional media opportunities.
In all, there will be 30+ English-speaking goods and services providers present. Besides the product and food vendors that will be on-display throughout the venue's halls, there will also be several other sections running activities simultaneously, including talks and seminars, fitness classes, and demos on cooking, massage, and DIY skincare attracting event-goers.
The vendor fee is 900rmb. Contact us at szhwf@mail.com to explore becoming media partner or to become a sponsor.

The SZ Health and Wellness Fair and all its classes, demos, and talks are always free to guests. Fill out the form below to become an official part of this revitalizing day!
The 6th SZHWF's free fitness classes:
Last fair's posters: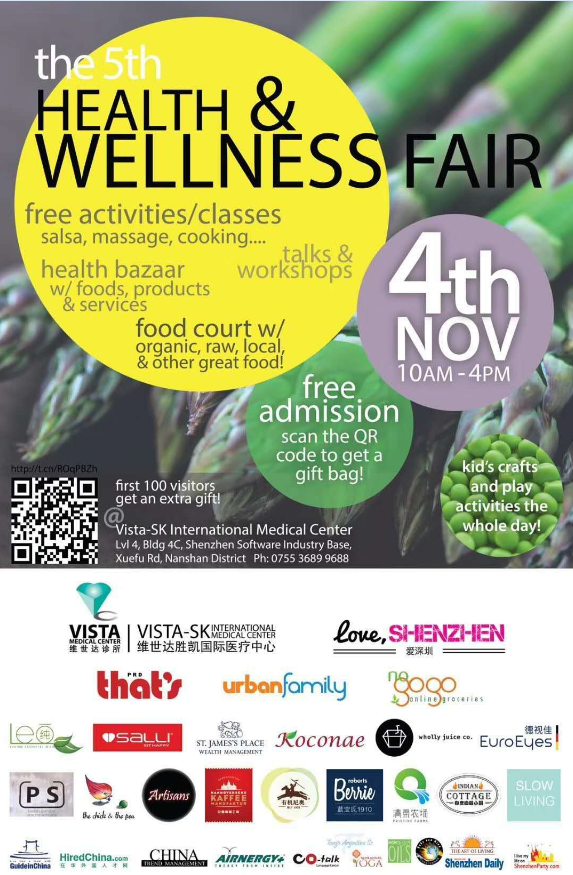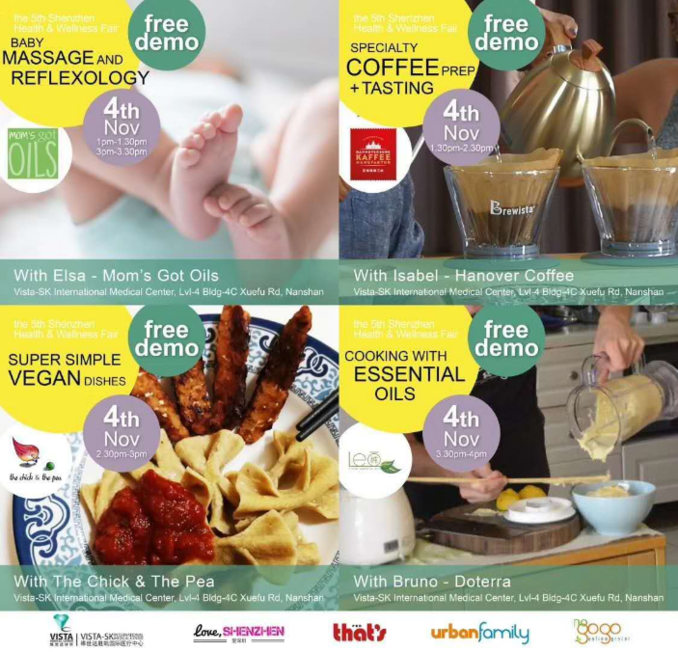 Want to find out more about how you can attend or be a part of the 6th Shenzhen Health and Wellness Fair? Contact us at szhwf@mail.com or on WeChat: pmk-96.