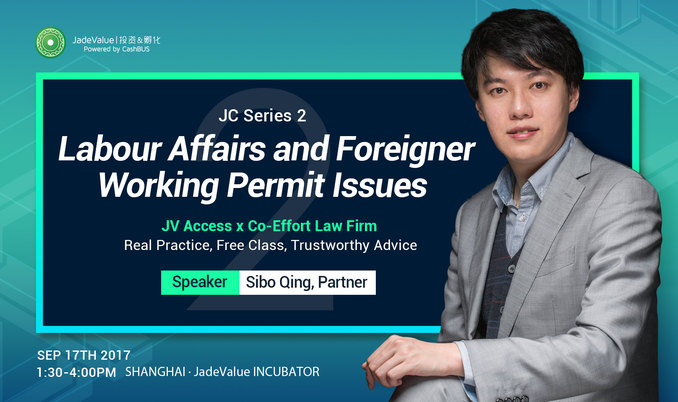 The second free law seminar for foreign entrepreneurs is coming!
In the last seminar, we discussed how to start a business in China,
and mentioned all the procedures and pitfalls you should know.
What? You missed it?
Don't worry, our second session is OPEN for registration NOW!
Puzzled with Z visa, labor contract, dismissal and related liabilities?
If you want to learn about all the company regulations,
Sign up for our event now!
Limited free seats served.
针对外国创业者的免费法律分享课程第二期开始啦!
上次课程中,我们一起学习了外国创业者如何在中国创立公司,
讲解了其中所有流程和各种注意事项。
什么?你错过了上次的课程?
没关系,第二期课程报名现在开始!
如果想要了解工作签证,劳动合同等具体细节,
那就赶紧报名吧!
Speaker Introduction 嘉宾介绍
Qing Sibo is a partner and lawyer in the Co-Effort Law Firm in Shanghai. He is a J.D. at the Columbia University in the City of New York, LL.B and B.Ec. at Wuhan University. He acts as a lawyer in both China and New York State of the US. He majors in company legal consulting, equity incentive, private equity, merger and acquisition, foreign investment, real estate and business disputes. Before joining Co-Effort, he got rich experience by acting as a lawyer at Shanghai Junyue Law firm and a law firm in New York State.
庆思博律师,上海市协力律师事务所合伙人。哥伦比亚大学法学 J.D.,武汉大学法学学士,经济学学士。庆思博律师为中国律师、美国纽约州律师,主要从事公司顾问法律服务、股权激励、私募基金、上市新三板挂牌、并购重组、外商投资、资本市场法律服务及争端解决等业务。庆思博律师此前在纽约律师事务所以及上海市君悦律师事务所有多年执业经验。
Overall topics:
1.1 Main positions and their roles:
Shareholders, directors, supervisor, managers
1.2 Company regulation:
labor contract, employee handbook
1.3 Dismissal and relevant legal liabilities:
arbitration and court judgement
special regulation to foreign employees: social insurance, remedy for employer's breaching labour contract
1.4 Foreigner working permit and Z visa
- working permit, scoring system
- Z visa application (at your home country)
- Residence Permit marked with 'entrepreneurship':you need to have
1) A degree issued by a Chinese university or college
2) a company
3) an innovation or entrepreneurship plan
活动内容
1.1 外籍员工的主要职位和角色:
1.2 外籍员工管理事宜:
1.3 解雇外籍员工及其他相关法律责任:
1.4 外国人在华工作许可和工作签证
工作许可,记点积分制

工作签证(须在本国申请)

创业型居住许可证(需要拥有以下资质

):

一个中国大学发放的学位(本科及以上)

一家公司的创始人

一份创业计划书
Schedule
1:30pm - 2:00pm Sign up
2:00pm - 2:40pm Speech by Attorney Sibo Qing (Partner)
2:40pm - 3:00pm Q&A
3:00pm - 4:00pm Social & Networks
活动时间
13:30 - 14:00 签到
14:00 - 14:40 演讲授课
14:40 - 15:00 Q&A
15:00 - 16:00 社交时间
Limited seats served,
Click "报名/Register" & RSVP NOW!
免费名额有限喔,请立即点击报名!
Host Introduction
JadeValue Fintech Investor & Incubator
JadeValue (Powered by CashBUS) is a leading Fintech Investor & Incubator in China located in the heart of the financial center in Shanghai, Lujiazui. We provide promising Fintech startups with the capital, talent and network they need to reach their next level. With a stunning view over the Huangpu River, our large incubator space is an innovation, learning and idea exchange platform, where startups, investors, and the global FinTech network can interact. Our main focus areas include InsurTech, Blockchain, Wealth Tech, Real Estate Big Data, and Alternative Lending.
Partner with
FC Club (Fortune Connection Club)
FC Club - a network for business professionals and connect the international community and people from a broad range of cultural backgrounds and experiences.
The FC Club is one of the biggest English speaking networking organizations in China. It is a very powerful and leading business networking organization and after 15 years now it has been developed to an international networking organization. It serves a rapidly growing community of over 200,000 active members.
Free Entrepreneurs
Free Entrepreneurs is a digital platform enabling accelerated discovery of knowledge and networking; it serves as global access point to startups ecosystem, catalyst to entrepreneurs' journey and accelerator of open innovation projects. With 3,000+ members and growing across 15 countries, we aim to connect the Chinese innovation ecosystem from Shanghai with the rest of the world and vice versa.
Transportation Map 交通地图
Subway: Line 2 Lujiazui Station, Exit 2. The building is behind Shanghai Marine Aquarium.