Tips Shared by Yale Alumni Entrepreneurs
2:30-5:00pm, Saturday, September 24
The Yale Club of Beijing invites you to an entrepreneurship panel discussion with Yale alumni in social service, health care, entertainment, online platforms, and architecture. Sean Fan范翔(YC '99), Managing Director of Goldman Sachs 高盛董事总经理, will be the moderator.
The panelists will discuss their personal experiences in entrepreneurship, business management, talent recruitment and training, corporate finance, competitive strategy and team building. They will also take audience questions. When registering, please send us one or more questions for the panelists.
Panelists include:
Liu Yan Johnson 刘燕(SOM '96), co-founder, Chairman of the board and CEO of Wuxi AnyHealth Technology Company Ltd.
无锡安和健康科技有限公司联合创始人,董事长及CEO,
Julia Zhu 朱缨(SOM '98), CEO of Phoenix TV Culture and Live Entertainment Company Ltd.
凤凰卫视文化演艺有限公司CEO,
Kaichen Xu 许开辰(JD '04), co-founder and CEO of fadoushi.com
法斗士联合创始人及CEO,
Na WEI 魏娜(YSoA '04), founder and design director of WEI architects, aka. ELEVATION WORKSHOP
WEI建筑设计创始人及设计总监,"为儿童设计"联盟创始人,
Yuefei Qin秦玥飞(YC '10), co-found of Serve for China
黑土麦田联合创始人.
Event details:
Date: Saturday, Sep. 24th
Time:
2:30~3:00pm Registration & Reception
3:00~5:00pm Panel Discussion and Q&A
Venue: Yale Center Beijing, 36F, Tower B, IFC Building, 8 Jianguomenwai Avenue http://map.baidu.com/?shareurl=1&poiShareUid=520ec2b99a6b6484921fc9b5&cityCode=131&tn=B_NORMAL_MAP
Sign-up:https://yoopay.cn/event/46980897
Eligibility: This event is open to all.
Language: English
Costs: On-line: RMB80 for regular admission or RMB40 for Yale undergraduate college graduates of 2014 or later. Walk-ins: RMB100.
About Moderator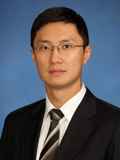 Sean Fan (YC '99)
Sean is Managing Director of Goldman Sachs Merchant Banking and responsible for corporate private equity investments in China and other regions in Asia Pacific Ex-Japan of Goldman Sachs. He first joined Goldman Sachs in 2004 as an associate and rejoined the firm in 2007 as an executive director. Sean was named managing director in 2011. Prior to rejoining the firm, Sean was an associate at KKR.

Sean earned a BA in Economics and Computer Science from Yale University and an MBA from the Wharton School of the University of Pennsylvania.

范翔先生是高盛直接投资部董事总经理,负责高盛中国及除日本外亚太其他地区的企业私募股权投资。他最初于2004年加入高盛担任经理,后于2007 年重新加入公司担任执行董事。范翔先生于2011 年被任命为董事总经理。范翔先生参与的项目包括青岛利群百货、雷士照明、中复连众、中国圣牧有机奶业、雅迪集团、国双科技等。范翔先生也是高盛人民币基金的法人代表。重返高盛之前,范翔先生在KKR担任经理。

范翔先生拥有耶鲁大学经济学和计算机专业学士学位和宾夕法尼亚大学沃顿商学院工商管理硕士学位。
About Panelists
Yan Liu Johnson (SOM'96)
Yan Liu Johnson is the co-founder of Wuxi AnyHealth Technology Company Ltd. and currently served as Chairman of the board and CEO of the company. AnyHealth is a health service and management company by employing the most innovative and effective tools and adopting holistic and systematic approach for corporations to better manage their employees and customers' health well being.
Yan is also a co-founder and has been Principal of Pacific Partnership Advisors LLC since 2006 in Hong Kong, and prior to that, from 2003-2005, in New York. Yan assists U.S. clients to capitalize on business opportunities in China and Chinese clients to realize their international aspirations. Yan's work has included investing in a high technology and science park; investing in a leading Chinese environmental company and acting as its senior advisor in strategy and fund raising, raising US$50 million in private equity funds for a privately-owned company.
Prior to Pacific Partnership Advisors LLC, Yan has extensive consulting experience with Accenture, AT Kearney, and Mckinsey in China and Hong Kong and was involved in many healthcare related projects. Yan also co- founded ChinaHealthLink with Accenture in 1999– a vertical B2B Internet portal connecting various players in the Chinese healthcare market and served as its CEO. Yan also served as a manager in charge of strategic planning for Greater China for Coca-Cola Hong Kong and as a biostatistician for National Medical Care and Yale Medical School/New Haven Hospital in the U.S. Yan co-authored two publications in New England Journal of Medicine using logistic model and Cox model in death risk analysis for dialysis patients.

Yan received her MBA from Yale School of Management in 1996, an MS in Applied Statistics from Southern Connecticut State University, and a BS in Electrical Engineering and Industrial Management from Shanghai University.
刘燕女士是无锡安和健康科技有限公司联合创始人、董事长及CEO。作为一家医疗服务管理公司,安和健康旨在通过为企业提供最具创新性和有效的医疗工具,以及全面和系统化的医疗手段,以帮助企业更好地管理其员工和客户的健康。
刘燕女士曾是泛亚联盛投资顾问公司合伙人,从2006开始负责公司在香港的业务;此前2003-2005在美国纽约主管公司事务。她帮助美国客户在中国进行商业投资,以及中国客户进行国际海外投资。刘燕女士拥有丰富的投资和商业经验,投资领域及合作对象包括高科技园区、中国领先的环境公司;曾担任战略融资高级顾问,成功帮助一家私有企业私募5000万美元。
在加入泛亚联盛投资顾问公司之前,她分别在香港和中国大陆为埃森哲、科尔尼和麦肯锡咨询公司工作多年,拥有丰富的咨询经验,曾参与多个医疗相关的项目。1999年与埃森哲公司共同成立虚拟B2B门户ChinaHealthLink, 并担任CEO,帮助中国医疗市场各方进行商业合作。
刘燕女士还曾担任可口可乐香港大中国区战略规划经理;
此前还曾任职美国医疗保健,以及在耶鲁医学院/纽黑文医院负责医学统计工作;
曾在《新英格兰医学期刊》发表合著论文,用Logistic模型和Cox模型对肾衰竭病人的死亡风险作相关分析。
刘燕女士拥有耶鲁大学MBA学位、南康州大学应用统计学硕士学位及上海大学电气工程及工程管理学士学位。

Julia Zhu (SOM '98)

Julia is the CEO of Phoenix TV Culture and Live Entertainment Company Ltd., a subsidiary of Phoenix TV Group in Hong Kong.
Julia is also co-founder of SwitchOn Technology Company, a lifestyle multimedia service company in Beijing. Prior to SwitchOn, Julia was the co-founder, Director, President and General Manager of Redgate Media, a leading advertising and media company in Greater China since its inception in 2003.
Prior to co-founding Redgate Media Group, Julia worked at STAR Group Limited, a subsidiary of News Corporation, where she was the Director of Business Development, overseeing strategic alliance and investment in the Television, print, Internet and mobile media space in China. Before News Corp., Julia had extensive experiences in corporate and securities law and investment banking, having worked in Media and Telecom group at Chase Securities in New York and Hong Kong and Sullivan & Cromwell LLP in New York and Hong Kong. Prior to her legal and banking experiences, Ms. Zhu worked in the fashion marketing and manufacturing affiliate of the Victoria's Secret in New York City.
Ms. Zhu holds a Master of Business Administration degree from Yale University and a Bachelor of Arts degree in economics from Wesleyan University.
朱缨女士是凤凰文化演艺公司CEO,该公司是香港凤凰卫视集团旗下的一家全资子公司。
北京SwithOn技术公司合伙人,该公司为客户提供与生活方式相关的多媒体服务。在此之前,朱缨女士曾担任展鹏传媒(Redgate Media)合伙人、董事、总裁以及总经理。该企业成立与2003年,是大中华区一家领头的广告传媒公司。
在成立展鹏传媒之前,她曾担任美国新闻集团全资子公司-星空传媒集团的业务发展主管,负责中国区电视、印刷、互联网和移动媒体空间的战略联盟和投资。
朱缨女士有丰富的企业和保险法以及投资银行经验,在加入美国新闻集团之前,她曾就职于大通证券(Chase Securities)旗下的媒体和电信部门,以及苏利文&克伦威尔(Sullivan &Cromwell)律师事务所,在纽约和香港多地供职。
此前,她还曾在纽约城为维多利亚的秘密下属的时尚市场营销和生产公司就职。
朱缨女士拥有耶鲁大学MBA学位及卫斯理安大学经济学学士学位。

Kaichen Xu (JD '04)
Kaichen is co-founder and CEO of fadoushi.com (法斗士), which is an internet platform for legal service. It uses big data to help clients in need of legal service to find suitable lawyers.
Before founding fadoushi.com, Kaichen is a partner with DLA Piper, one of the largest international law firms. His legal practice focused on private equity and venture capital investments.
Kaichen graduated from the National University of Singapore (B.Sc. with first class honour) , Harvard University (M.A. in chemistry) and Yale Law School (J.D.). He is a licensed attorney in the State of New York.
许开辰先生是法斗士网联合创始人及CEO。法斗士网是一家专注于法律服务的专业搜索平台,通过大数据,帮助有法律需求的用户找到最合适的律师。
在成立法斗士之前,他还是全球最大的律师事务所欧华律师事务所(DLA Piper) 合伙人。主要法律经历包括私募和风投。许开辰先生持有纽约州律师执照。
许开辰先生拥有耶鲁大学法学院法学博士(JD)学位,哈佛大学化学系硕士学位及新加坡国立大学学士 (一等荣誉)学位。
Na WEI (YSoA '04)
Na WEI is the founder and design director of WEI architects, aka. ELEVATION WORKSHOP. She also teaches at China Central Academy of Fine Arts since 2010. Na WEI graduated from the School of Architecture at Yale University with a Master of Architecture degree and Tsinghua University School of Architecture with a Bachelor of Architecture degree.
ELEVATION WORKSHOP is an international multi-disciplinary architecture and design firm. Originally founded in New York by Na WEI and Christopher Mahoney, ELEVATION WORKSHOP established its office in Beijing, WEI architects, in 2009. As one of the most innovative and leading architecture firms in China, WEI architects has worked on projects of various scales. Positioned at the crossroads of art and architecture, WEI's projects were featured in over fifty publications in over ten countries around the globe, including Time Architecture (China), Domus, Archdaily (U.S.), Dezeen (UK), FRAME (the Netherlands), Gestalten (Germany), and Rikuyosha (Japan). Several WEI's projects have been nominated for international design awards. WEI received a competition award in 2009, the "People's Choice" as well as the "Most Stunning Design of 2010" awards for the Rizhao Urban Planning Museum, Shandong Province. The "SongMax" store and showroom design was presented at the AIANY Interior Design Lecture series in 2014. One of its recent projects, WHY Hotel, was awarded "the 2015 Best New Hotel", "Hotel of the Year" and other international and domestic awards. WEI has been profiled and covered by many international media, including CBS News, China Economic Observer News, China Construction News, etc.
WEI architects intends to derive its design concept from emotions in order to create an atmosphere-driven synergy that highlights the interaction between people and the built environment. WEI adopts the conceptual approach of creating a "Suffused Space" to outline a spatial parameter that encourages users to appreciate their own intuitive perceptions and maximizes their bodily experience.
During the 2015 Beijing International Design Week, Na WEI in collaboration with China Building Center and Beyond Architecture curated the section of Design for Children and created the designer union of Children design. Meanwhile, Na, a key committee member of YaleWoman China, has been organizing and participating in many social activities for entrepreneurial women in China.
Prior to forming WEI architects / ELEVATION WORKSHOP, Na WEI used to work for Beyer Blinder Belle Architects and Planners LLP in New York, and was responsible for the design of several major projects. She also worked for the Office for Metropolitan Architecture (OMA) in Rotterdam as a project manager later on.
魏娜女士是WEI建筑设计创始人及设计总监,"为儿童设计"联盟创始人。并从2010至今担任中央美术学院客座讲师。魏娜女士拥有美国耶鲁大学建筑学院获建筑学硕士和中国清华大学建筑学院获建筑学学士学位。
魏娜及Christopher在纽约共同创立了ELEVATION WORKSHOP,并于2009年正式成立北京办公室-WEI建筑设计。作为在中国最活跃的年轻事务所之一,WEI目前的项目包括从几十万平米的大型综合中心、几万平米的超五星级酒店到几千平米的美术馆、学校、幼儿园及规模更小的高端时尚零售店和儿童会所等,并与世界顶级建筑师事务所一同受邀参与了包括北京、天津、内蒙古和四川省政府的多个重要项目的设计。WEI的作品已被包括domus、中国的时代建筑、美国的Archdaily、英国的DeZeen、荷兰的FRAME,德国的Gestalten、日本的六耀社等世界十几个国家的几十个杂志和出版社报道,并获得国内外多个奖项。魏娜主创的SongMax项目获得美国建筑师协会纽约分会(AIANY)2014年第五届室内设计大奖。2011年,山东日照规划馆的设计也被评为2010年"最阳光"设计奖。WHY hotel被评为2015年最佳新酒店、年度最佳酒店等国内外各种奖项。同时,魏娜也受到了包括美国CBS(哥伦比亚广播公司)、中国经济观察报、中国建设报、中国搜房网、中国建筑新闻网等各领域多家媒体的专访,并在世界多个国家的大学举办了建筑讲座和参与建筑评论。
WEI建筑设计主张以代入式的情感设计为出发点,创造意境为主导的人和建筑环境的共同体,为建筑的使用者提供一个可以产生纯个人顿悟的场景。WEI建筑设计把它称之为"弥漫空间"。
在2015年北京国际设计周期间,魏娜与CBC及建筑之外合作,作为策展人组织了"为儿童而设计"板块的展览事宜,并创立了"为儿童设计"的设计师联盟。同时, 魏娜作为YaleWoman中国区组织委员,积极参与创业女性的社会活动。
在创立ELEVATION WORKSHOP/ WEI建筑设计前,她曾在美国的BBB建筑与城市规划事务所工作,负责设计多个建筑及城市设计项目。之后还在曾在荷兰的OMA(荷兰大都会建筑)事务所担任项目经理。
Qin YueFei 秦玥飞(YC '10)
Qin Yuefei graduated from Yale College in 2010. Mr. Qin has been serving as a village chief in rural Hunan for more than 5
years, during which he was elected to local people's congress. In recognition of his work, Mr. Qin was named one of
China's top-ten village chiefs by China Central Television, and was awarded a First-Class Medal for Meritorious Service.
Mr. Qin is also a co-founder of Serve for China, an NPO focusing on poverty alleviation and youth public service
leadership development. Serve for China won the championship of Beijing Overseas Talent Entrepreneurial Contest in 2015.
Currently, 30 Serve for China fellows are serving as poverty-alleviation specialists in 15 villages around China, working
with local governments on lifting 2500 villagers from poverty.

秦玥飞2010年毕业于耶鲁大学,毕业后至今在湖南乡村担任大学生村官,是湖南省十佳留学归国人员,湖南省青年五四奖章获得者,2013年度中央电视台"全国最美村官",入选2015年度"中国留学人员创新创业50人",曾立个人一等功一次。秦玥飞同时是黑土麦田公益的联合发起人。黑土麦田是民政部批准成立的全国性公益组织下属项目,由耶鲁大学的优秀中国毕业生发起,每年资助一批顶尖学府的杰出毕业生到国家级贫困县的乡村从事精准扶贫和创业创新。2016年,黑土麦田从清华、北大、耶鲁、哈佛等高校招录了30名"乡村创客"。目前,他们正在15个贫困村与当地政府合作,带领2500余名建档立卡的贫困户开展产业脱贫工作。