Talk by Vassar College President Catherine B. Hill
on
American Higher Education and Liberal Arts
Saturday, June 27th, 4:00-6:30pm
The Yale Club of Beijing, the Yale Center Beijing and Vassar College alumni jointly invite you to a talk by Dr. Catherine B. Hill, Vassar College President and Yale Corporation Alumni Fellow, followed by a reception in her honor.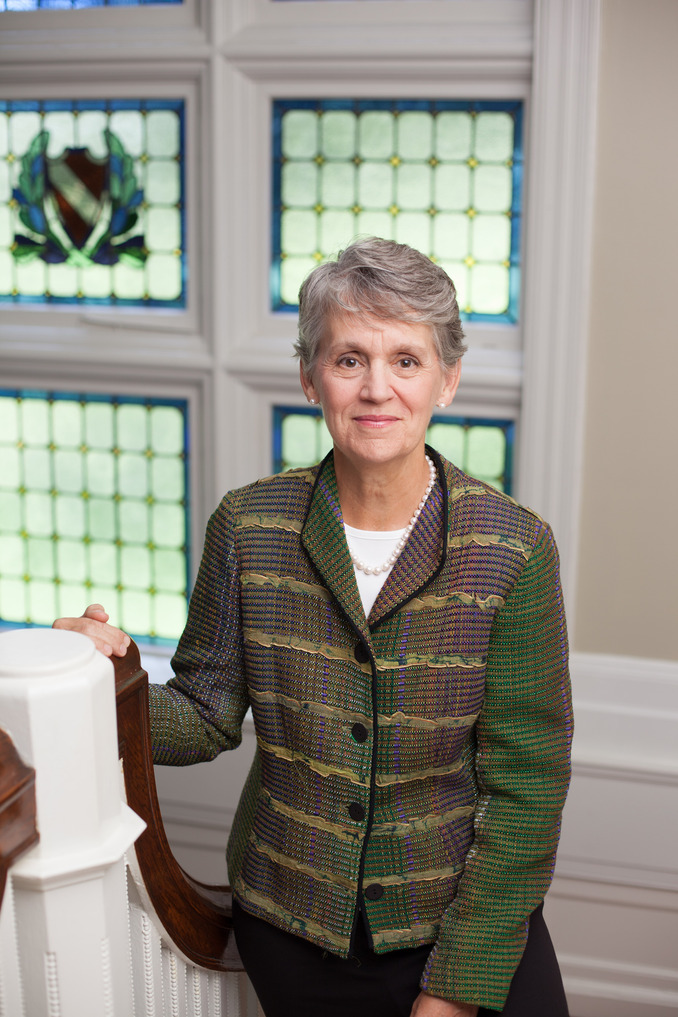 About the speaker:
Catharine Bond Hill became the tenth president of Vassar College in July 2006. She has served as an Alumni Fellow of the Yale Corporation since 2013. Hill is a noted economist whose work focuses on higher education affordability and access, as well as on economic development and reform in Africa. Prior to her Vassar presidency, Hill served seven years as the provost of Williams College, where she had chief academic and financial officer responsibilities. Hill originally joined the economics faculty at Williams in 1985. She and her family lived from 1994 – 1997 in the Republic of Zambia, where she was the fiscal/trade advisor and then head of the Harvard Institute for International Development's Project on Macroeconomic Reform, working in the Ministry of Finance and with the Bank of Zambia. She has written widely from her experiences in Africa, including co-editing the books Promoting and Sustaining Economic Reform in Zambia (2004) and the widely reviewed Public Expenditure in Africa (1996). In her earlier career she worked for the World Bank, and the Fiscal Analysis Division of the U. S. Congressional Budget Office.
Hill has lead Vassar to reinstate need-blind admissions and to admit veterans to the Classes of 2017 and 2018. Other initiatives include greater community outreach, and the development of tools and resources for institutional research and long-term planning. Hill also teaches an advanced-level seminar at Vassar on the economics of higher education.
Hill continues to study the access by low-income students to highly selective colleges, and the net prices paid by these colleges' students relative to their family incomes. This includes "Low-income students and highly selective private colleges: Geography, searching, and recruiting" (Economics of Education Review, 2010) and "Affordability: Family incomes and net prices at highly selective private colleges and universities" (Journal of Human Resources, 2005), recent publications with longtime co-author Gordon C. Winston. She has also authored opinion pieces for the Los Angeles Times, Business Week, the Christian Science Monitor, the Chronicle of Higher Education, and Inside Higher Ed, and been quoted by the Wall Street Journal, Bloomberg News Service, Money magazine, and the New York Times, among other outlets.
Hill has been selected for a number of scholarly awards, grants, and fellowships from organizations including the American Council of Learned Societies, Brookings Institution, National Science Foundation, and Social Science Research Council. The work of Hill and her colleagues on the economics and affordability of higher education was primarily supported by a grant from the Andrew W. Mellon Foundation.
Hill is a trustee of Cooper Union and Ithaka Harbors, Inc. Hill previously served on the Board of the College Board, the NCAA Division III Presidents Council, and on the Board of the Yale-NUS College, Singapore's first liberal arts college.
Hill graduated summa cum laude from Williams College, and also earned B.A. and M.A. degrees at Brasenose College, Oxford University, with first class honors in politics, philosophy and economics. She completed her Ph.D. in economics at Yale University.
Date: Saturday, June 27th

Time:
4:00-5:30pm President Hill's speech and Q&A's
5:30-6:30pm Reception
Venue: Yale Center Beijing (36F, Tower B, IFC Building, 8 Jianguomenwai Avenue, Beijing 耶鲁北京中心,IFC北京建国门外大街8号国际财源中心B座36层, http://map.baidu.com/?shareurl=1&poiShareUid=520ec2b99a6b6484921fc9b5&cityCode=131&tn=B_NORMAL_MAP)
Eligibility: This event is open to all.
Costs: RMB80, sign up here https://yoopay.cn/event/41993267, RMB40 for those who graduated in 2013 or later from Yale's or Vassar's undergraduate colleges.