Goody bags and coupons books loaded with deals and discounts to SZ-based businesses are given to all who show up at the 5th Shenzhen Health & Wellness Fair… But those who RSVP here get a free bonus gift! Register now to reserve yours!
The Shenzhen Health & Wellness Fair is essentially a gathering of leading names in nutrition and fitness offerings. Community-oriented and family-friendly, 5th Shenzhen Health and Wellness Fair (SHHWF) will see 30+ businesses and organizations represented Nov. 4 at Vista-SK International Medical Center.

With the sole focus of equipping Shenzhen's urbanites with options for healthier lifestyles, entry to the Health and Wellness Fair is free to all. At Vista, the clean and spacious indoor host venue, there will be over a dozen activities and classes held simultaneously throughout the day, as well as a long stretch of vendor booths for browsing, a food court, and a children's play area.

All classes, demos, and talks at the Fair are also free to all attendees. These scheduled interactive activities include yoga, meditation, dancing, cooking, massage, and more. The class schedule is below; more detailed schedules will be released in the near future!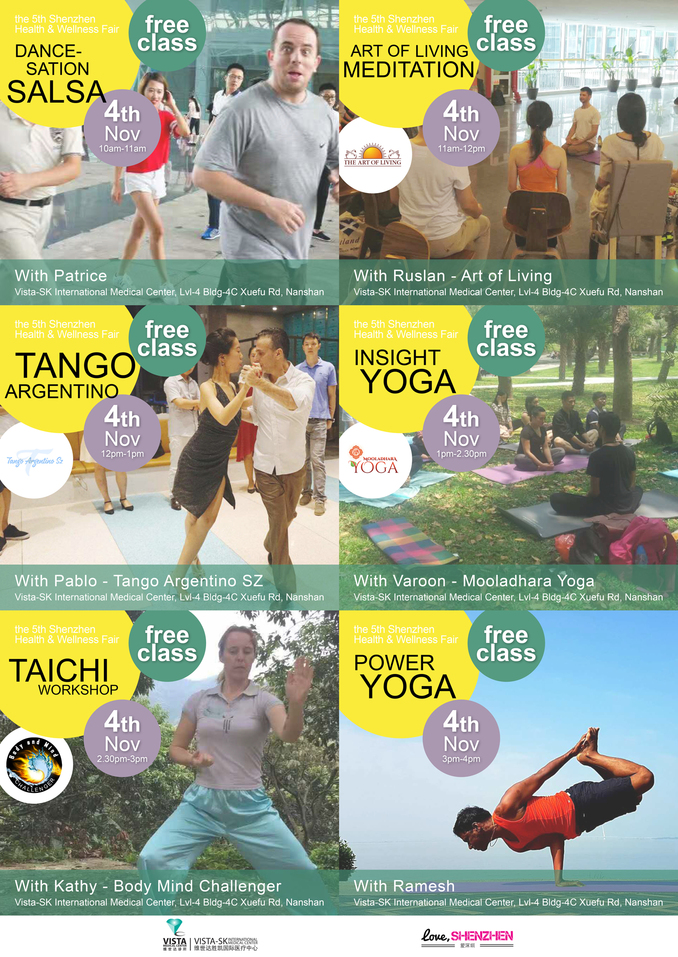 Want to find out more about how you can attend or be a part of the 5th Shenzhen Health and Wellness Fair? Contact us at szhwf@mail.com or on WeChat: pmk-96.