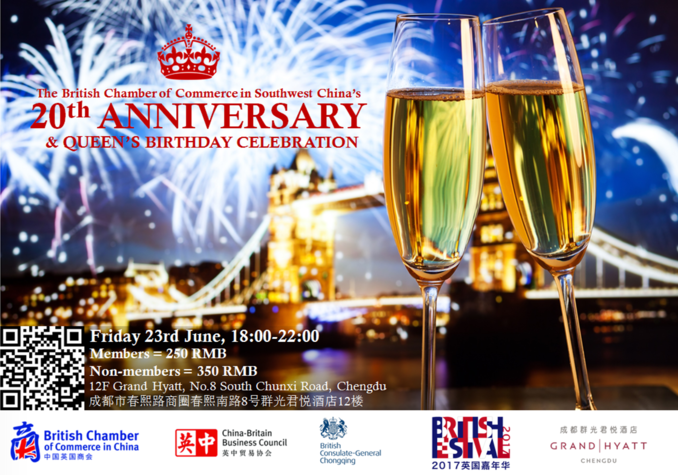 Event Details
On the 23rd of June, we will celebrate both our 20th Anniversary for the British Chamber of Commerce Southwest China and the Queen's Birthday. We cordially invite you to attend this, our biggest event of the year!
Date: Friday 23rd June 2017
Time: 18:00 - 22:00
Address: Grand Hyatt Chengdu F12, No.8 South Chunxi Road, Jinjiang District
成都群光君悦酒店 , 中国成都市锦江区春熙路南段8号

Cost: 250 RMB / 350 RMB (Members / Non-members)
British Festival
We are immensely happy to say that this celebration will also be part of the British Festival, which aims to improve cooperation and relations between China and Britain. We are also especially grateful to be joined by our guests on this night, including Local and British government officials, representatives from member companies, partners, local business leaders, Consul-Generals and more!
20th Anniversary
We at the British Chamber of Commerce for Southwest China are proud to celebrate our successful past 20 years. Through this time we are grateful to have made so many friends and to have seen so many changes, and now through this history we must now look to the future and the opportunities that it brings for ourselves and our partners!
The Queen's Birthday
This 20th anniversary also falls at the same time as Her Royal Britannic Majesty Queen Elisabeth II's birthday, and it would not be right to let this event pass without due celebration! The fact that her majesty is celebrating another birthday is no small feat considering she is currently both Britain's oldest ever monarch and the world's longest reigning monarch on her 92nd birthday.
Food
At our anniversary evening, there will be an array of Classic British hot foods, from quiche and sausage rolls to fish & chips and even a carving station! Naturally, there will also be a similarly impressive selection of salads and British desserts for all our guests.
Drinks
Throughout the evening there will also be a variety of fine wine available, namely French red, Australian white, and Spanish sparkling. There will also be a wine tasting provided by the 9 Wine Shop. Asides from the wine there is also a bar featuring British drinks and cocktails such as Pimms and a variety of Scottish whisky provided by Diageo and Asia World Consultancy.
Entertainment
During the event guests will also be entertained by the singer Aminah and the band BIBS, who will be performing various classic British songs. There will also be some traditional Scottish dancing towards the end of the evening for those brave enough!
Exhibitors
Many of our members and friends will also have displays at the event, such as a display of exquisite Morgan classic cars and a display of elegant formal British clothing from Gieves & Hawkes. Our valued friends, Huaying and Malvern College will also be displaying their companies and activities at the celebration.
Lucky Draw
All guests will also be able to join the free raffle in which guests can win a variety of great prizes. Prizes include a multitude of stays in luxury hotels, a round business class trip to the UK with British Airways or even a week of driving a stunning Morgan classic car!
Face Magazine
Additionally, this year we will release our exclusive 20th anniversary magazine celebrating our members' successes, their journeys with us and their industry expertise. This magazine is both our way of cherishing all individuals who have been key to the Chamber's success and to promote new opportunities in Southwest China and Britain.
Executive Committee
The night shall also determine who shall be our, the British Chamber of Commerce's, future executives. These executives will continue to lead us down this successful road that we have been treading from 1997 onward!
Thanks and Sponsors
Finally, a massive thank you to our sponsors, the British Consulate general Chongqing, Huaying, and of course our host Grand Hyatt. We again extend our sincere gratitude to British Airways, Malvern College Chengdu, Geives & Hawkes, Morgan Motor Company, Diageo and Andaman Village. We also extend our special thanks to Niccolo, Fairmont Chengdu, Wanda Reign Chengdu, 9 Wine Shop, Hi Bake, Senmo International, Crowne Plaza, St Regis Chengdu, Asia World Consultancy, Seven Goods and Soong Ching Ling.