Dear AUTOSAR Colleagues!
With the motto "Addressing automotive software challenges with AUTOSAR", we are excited to announce the virtual AUTOSAR Open Conference for 2021 that will be held on 9th-11th March 2021. The virtual AOC will focus on the application of the AUTOSAR Platforms with go-live examples, the communication and interconnectivity between the AUTOSAR Platforms as well as safety and security aspects.
Pricing
Ticket Prices and Ticket Style under the selected pricing group will be applied to this online event.
Price of each ticket type also depends on whether the attendee of this event is an AUTOSAR Partner. Find out more on current AUTOSAR Partners and how to become AUTOSAR Partner.
Agenda:
This virtual event will take place from 9th-11th March 2021. We decided to deliver two fully equivalent periods of the 12th AOC to give each participant the opportunity to participate in a time zone that is appropriate to its location. (On the agenda below, start time of stages/sessions are according to Central European Time!)
Please note: The colored stages/sessions of pricing model (see picture above) indicate which ones are available for the attendee, depending on the purchased ticket type!
Please note: For the best user experience, AUTOSAR recommends that you use either Chrome or Mozilla as Web Browser for this event.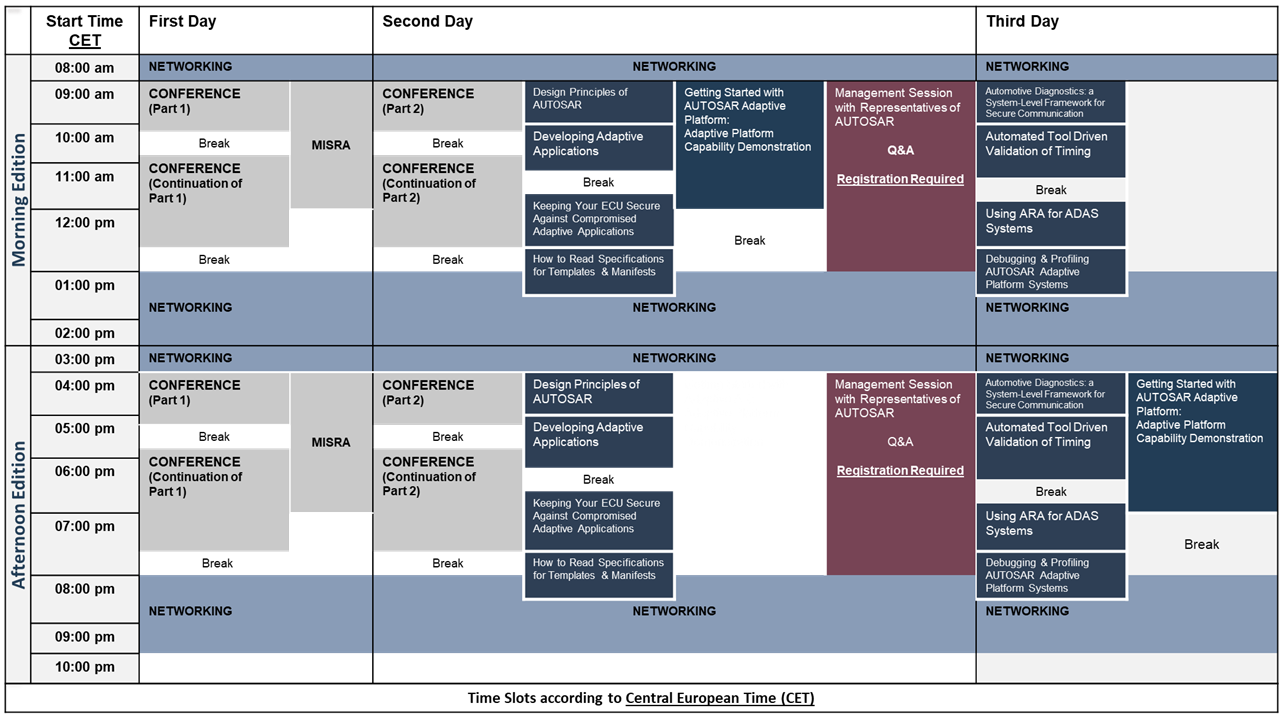 Contact:
Ilija Sholev
AUTOSAR Communication
Email comm.support@autosar.org
Phone: +49 89 23 88 57 410
AUTOSAR GbR
Theresienhöhe 30
80339 Munich, Germany
Further Information:
Website www.autosar.org
About AUTOSAR (AUTomotive Open System ARchitecture)
AUTOSAR is a global partnership of leading companies in the automotive and software industry to develop and establish the standardized software framework enabling scalable E/E system architectures for intelligent mobility. Since 2003, they have been working on the development and introduction of several open, standardized software platforms for the automotive industry. By simplifying replacement and update for software and hardware, the AUTOSAR approach forms the foundation for reliably controlling the growing complexity of electronic and software systems in today's and future vehicles. In addition, AUTOSAR improves cost efficiency by enabling its partners to cooperate in a competitive way. The "Core Partners" of AUTOSAR are the BMW Group, Bosch, Continental, Daimler, Ford, General Motors, the PSA Group, Toyota, and the Volkswagen Group. In addition to these companies, more than 280 partners play an important role in the success of the partnership and can use the standards free of charge.