Wine Tasting and Networking
葡萄酒品鉴会


Collective winetasting by Wei
Every Wine has his story.
Cheers!
A great chance to taste 4 selective fine wines and to meet good taste people.
The wine tasting organized by Miss Wei Feng who is a wine specialist.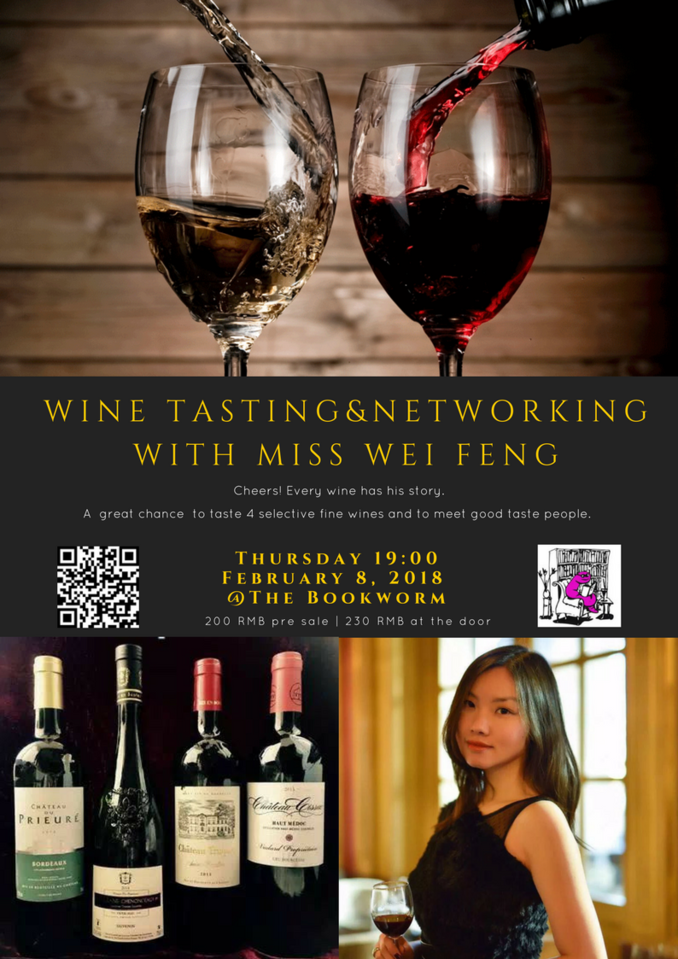 Miss Wei FENG
Wine and gastronomie writer, specialist,marketer, event organizer, and international business development consultant fromBeijing. She was honored as Hospitallier de Pomerol and Jurade de Saint Emiliondue to her extensive experiences in Bordeaux since 2010, where she considersher second home.
Her continuing efforts in bridging French and Chinese wine markets led to her to publish her first book on wineand food pairing in 2015 in bilingual French and Chinese, well recognized in the industry, (reported by multiple medias in Franceand China: France 3, China Daily, etc), gained her the accolade as 'Excellentrepresentative of China in Bordeaux'. She was the manger in charge ofwine&liquer for Amazon. Her next wine book will be launched this year in May 2018.
冯为葡萄酒和美食作家,葡萄酒专业人士活动策划人, 国际商务咨询。波美候及圣爱美隆骑士勋章获得者。祖籍北京,而波尔多是她的第二故乡(她于2010年起在波尔多生活工作)。2015年,她在法国出版了首本中法双语餐酒搭配书籍并在当地引起轰动。坚持不懈的努力,出众的品味和优雅的谈吐让她获得了"华人在波尔多最佳中国代表"的赞誉。她曾负责亚马逊葡萄酒烈酒的采购业务。她的新书并预计于2018年5月出版。
Wine List: 4 winesselected by Wei. 2 white and 2 red.
For the group of white:
you can discover the magic of the Terroir as the wines were made by thesame grape variety but different appellations.
Highlight:
Domainedes Souterrains- Chenonceaux, as a fine white wine is Selected by ElyséePalace in thewine list of French government.
For the group of red:
you can discover the different styles of the wines influenced by differentgrape varieties and terroir. Château Truquet from right bank where the dominategrape variety is Merlot, while Chateau Cissac, a renowned Cur Bourgeois fromthe left bank of Bordeaux, where the dominate grape variety is Carbernet Sauvignon.
Highlight:
ChateauCissac vintage 1986 was selected by the Queen Elizabeth II of England for her50 years marriage' anniversary.
Wine. Vintage Appellation
Château Prieuré White 2014 Bordeaux
Comment: ClassicalBordeaux white by Sauvignon blanc
Domaine desSouterrains- Chenonceaux 2014 Loire Touraine
Comment: Selectedby ElyséePalacein the wine list of Frenchgovernment
ChâteauTruquet 2011 Bordeaux-Saint Emilion
Comments:Traditional Bordeaux blending who the Top 100 wines of Simply Bordeaux
ChâteauCissac 2015 Bordeaux-Haut Médoc Cru Bourgeois
Comments: Selectedby the Queen Elizabeth II of England for her 50 years marriage' anniversary.